Imagine spending your time picking out the perfect outfit for an event only for it to be ruined by the wind and rain by the time you get there. That's why at Rydale we believe there is nothing more important that a trusty coat when putting together a winter outfit. As the temperature drops, it is what you will be seen most in, almost seen as your statement piece of clothing that defines your style. With this in mind, it is important to consider how your coat looks, not only how warm and dry it will keep you. In this blog post we are going to be going through our best men's winter coats, so you don't have to sacrifice your warmth just to keep yourself looking good.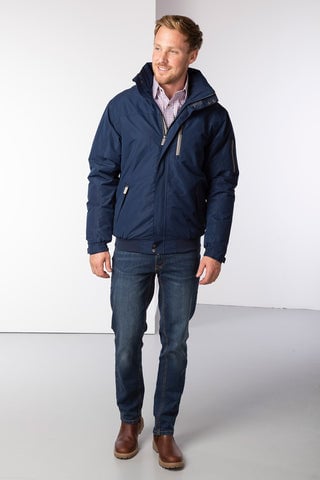 Men's Ripon Team Bomber Jacket
To start off with we will be looking at the Ripon Team Bomber Jacket, which is the perfect choice for those who are often outdoors in challenging terrain and all-weather conditions. With its fully windproof and waterproof outer shell, this jacket was designed to tackle the elements and keep you warm and dry in any situation. Whether out on a walk or working in the farm, you won't be caught out in a sudden downpour of rain. This coat also includes a soft fleece lining, guaranteed to keep the heat in on those days when the temperature drops below zero. The Ripon Bomber Jacket comes in three colours, all of which can easily pair with almost any outfit to keep you looking and feeling great. We recommend the bomber jacket as a more casual option, designed with comfort and warmth in mind. Pair it with a suit and you risk losing the comfort.
Men's Shooting Jacket – Danby
Next up we have the Danby Shooting Jacket, a must have for not only hunting, but also the fashion-conscious country gentleman. This coat is 100% waterproof and windproof, made from the highest quality materials to ensure you keep warm and dry regardless of where you are or what you are doing. Despite being totally weatherproof, including a drawstring hood and button up the Danby still manages to be lightweight and breathable, so you won't feel weighed down or have to worry about overheating.
You won't be short of storage space when wearing the Danby either, designed with shooting in mind, the two front pockets are conveniently designed to be pinned back for easy access to your essentials, a secure zip pocket on the arm and an inside pocket allow enough space for anything you may need.  You don't need to be a fan of hunting or shooting to appreciate this jacket, although designed for shooting, this jacket looks just as at home in the yard or even out in town.
You won't ever feel out of place wearing one and you will hardly feel the cold. The neutral khaki colour keeps you camouflaged in the country, but also makes the jacket easy to pair with any outfit. Whether wearing it to remain unseen, or as a fashion statement to be seen, you can't go wrong with the Danby jacket.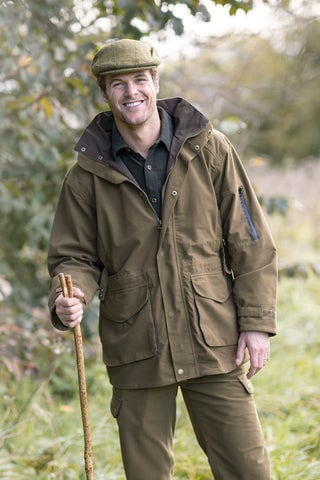 Men's Derby Tweed Shooting Jacket
This jacket is truly a staple for the country gentleman, a men's Classic tweed shooting jacket. Ideal for shooting, hunting or any other outdoor activity, this jacket will keep you looking the part whilst keeping you cosy. The quilted interior of this jacket keeps the coat insulated, making it warmer and more comfortable. The Derby Tweed is made right here in the UK from a high quality wool blend which means this coat isn't just for one winter, this will be a favourite for years to come. Adaptable to any event, whether it be a shooting event or just a casual walk around town, this jacket won't ever look out of place. Although the jacket is optimised for shooting, anyone can benefit from this jacket, with its ample pocket space to the classic British tweed design. This jacket is shower resistant, but not completely waterproof, so we would leave this one at home in a heavy rain.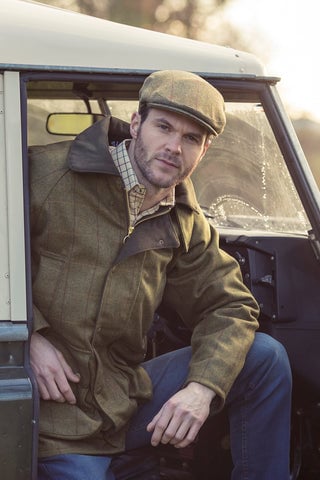 Men's Waxed Jacket – Thirsk
Last but not least, we have the Thirsk waxed jacket, which is the perfect combination of stylish and practical, ideal for any country gentleman. This has been a customer favourite here at Rydale for a few years now and that's not a surprise to any of us here. The combination of a great price, the quality waxed cotton outer and the stylish look really make this coat a winner. As handsome on the inside as it is on the outside, the Thirsk includes a soft cotton checked lining, adding extra style and comfort. The handwarmer pockets offer great protection from the weather with the large bellow pockets underneath offering plenty of room to store your essentials. This versatile and resilient jacket will stand up well to the British weather, storm flaps and poppers to keep secure when the wind picks up and will keep you dry in a light rain. Coming in three colours, olive, navy and brown, the Thirsk can be worn with any outfit and is ideal for almost any outdoor event, whether that be attending a get together with old friends or just taking the dog out for a walk.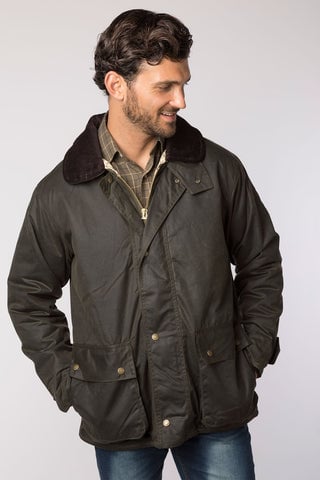 Here at Rydale we have a wide range of men's coats to keep you toasty this winter, these are just a small selection of what's on offer. So have a browse yourself, we have something for everyone. Whatever your style we are sure to have something that will compliment it nicely. We also a stock many other winter essentials such as our men's fleece waistcoats ideal to wear underneath a jacket when the temperature drops below zero. We also stock a range of chunky knitted jumpers ideal to keep the chill off. Our range of Leather boots will also keep your feet dry and offer enough traction to be out in icy weather without worrying about slipping.
Of course, if you have any questions regarding any of our jackets for men, then please get in touch with our Rydale team who have on-hand experts to help. Be sure to explore the full range of men's jackets for more great quality and stylish designs.