With a new season on the horizon, fresh styles and pieces come into fashion. One thing that is here to stay are skinny jeans.
They suit lots of different body shapes and sizes and we're pretty sure you'll already be the proud owner of a pair.
We'll take you through our top tips of how to style your regular, denim skinny jeans for any occasion before looking at styling coloured denim.
Your perfect pair
Think about when you wear skinny jeans.
Do you grab them for daytime activities like running errands and lunch dates or do you prefer them for evening events such as nights out with friends or at family functions?
If, like many people, you wear them on a whole host of occasions, both day and night, you might want to consider owning more than one pair.
However, if you're a skinny jeans novice, we recommend your first pair to be a darker washed pair. Darker washes tend to be easier to dress up and down.
You can wear them with trainers, ballet flats, flat boots, heeled boots, tall boots, ankle boots, heels, even wellies!
Make sure the ankles are wide enough to tuck your skinny jeans in at the bottom or you'll end up pulling your jeans down all day long. Another option is to roll up the bottoms a couple of times.
A little bit of skin makes a gorgeous spring/summer outfit and looks super chic with trainers and heels too!
Daytime looks
Denim is a staple for most daytime outfits, mostly because it's so easy to wear. Pop on a pair of skinnies before heading out and you know they will go with most top half items you have.
Take a look in your wardrobe and see just how many outfit options you have. You probably have more than a weeks' worth. However, you might not know if they do go with skinny jeans or not.
Basic t-shirts/vests: Plain white t-shirts and vests are a core item for anyone's wardrobe. You can wear them on their own or as a layer underneath a jumper. Tuck one into your skinny jeans and add some sneakers or boots for a polished, casual look. Alternatively, if you prefer a splash of colour, a pop of red or blue with matching footwear is a stylish but fun look for during the day.
Polo shirts: If preppy style is more your thing, polo shirts are the best casual option for you. Channel your country chic side by adding a pair of trainers or wellies, an outfit perfect for being out in the country! Our Classic Polo Shirt in Berry is a modern twist on a classic look.
Slogan t-shirts: If you're into trends, you'll have seen a wave of slogan t-shirts available across the high street. From empowering to funny, there's a slogan for everyone! These tops tend to look best when you dress them down, so trainers or flat boots suit them best.
Breton stripes: Every spring/summer, Breton stripy tops make a comeback. Some of you might choose to wear them all year round but they always reappear in the shops when the weather gets nicer. Opt for a baggier style for a more casual look or choose a fitted top that you can dress up or down.
Structured shirt: If you want to dress up during the day, a shirt is the perfect item for you. Dressing smart in the daytime is not as tricky as you might originally think. A blouse means you must pair it with smart footwear; it would look out of place with a pair of trainers. Think low-heeled boots, brogues or loafers. Dress like you work in a smart-casual office by buttoning the cuffs. Keep the look cool and edgy by rolling up the sleeves.
Flowy blouses: The ultimate feminine top is a flowy blouse. Similar to a structured one, flowy blouses look best dressed up a little. Heeled boots in a neutral colour will keep the outfit streamlined while the pattern on the blouse stands out.
Night-time looks
Basic t-shirts/vests: If you want to look dressy but it's not a black-tie event, a basic t-shirt with skinny jeans is a great foundation. Add a pair of heels or heeled boots, or perhaps a smart blazer and a clutch bag and you're ready for girls' nights out and family meals.
Slogan t-shirts: Although they are better suited to daytime wearing, you can always rock one on a night out. Just like a basic t-shirt, casual chic is the best road to go down. Adding a structured jacket on top instantly takes the look from day to night.
Breton stripes: Stripes are the ultimate day to night item; they are versatile just like skinny jeans, and you can find them in an array of colours to suit you. Long-sleeved Breton tops can often mean you don't need a jacket for night-time looks, which is always a bonus in a pub/club/bar. You can stick with flats on an evening and jazz up your outfit with statement jewellery. Buying a bright coloured striped top will make sure you stand out!
Structured blouses: Classic white or light blue shirts are perfect for smart, evening looks with skinny jeans. It's an outfit that any woman, young or old, slim or curvy, can rock. This look is all about the accessories. Add red lipstick and some classic gold or silver jewellery for a sophisticated look. If you're after a more on-trend style, find yourself a colourful, statement necklace and some bright pink lipstick, an outfit perfect for summer events.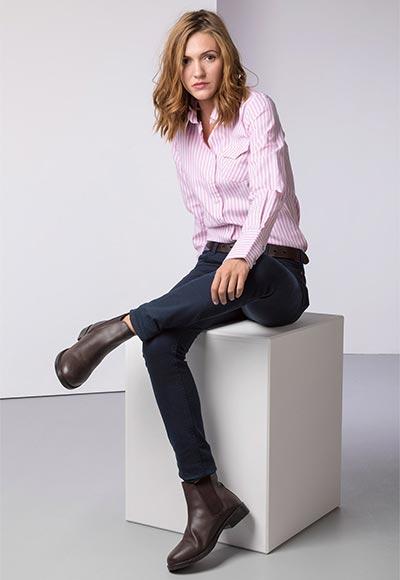 Flowy blouses: Choosing a looser fitted blouse for night-time can be the perfect choice, especially if you know a venue might be a little warm. Keep the look streamline with neutral, nude or tan heels or boots and simple jewellery. You want to keep the focus on the blouse as the statement item you're wearing.
Styling coloured denim
If you're a colour maven and have an array of it in your wardrobe, coloured skinny jeans could be right up your street.
Styling them is often trickier than it is with denim skinny jeans because you want to avoid a colour clash.
Our favourite outfit combination is neutral tops and shoes, meaning the colour of your jeans will grab all the attention.
White, grey, black and tan/nude shades all go with any colour, which makes having them an option in your wardrobe, your best bet.
If you choose cropped length skinny jeans over a full length pair, make sure you don't pair them with boots.
Always opt for below the ankle shoes, such as sneakers and loafers, and choose a more casual style. For instance, pair a shirt with loafers and a t-shirt with trainers as not to confuse the look.
Skinny jeans are the ultimate grab and go item for any woman, whether you're a casual dresser or you live to dress up.
They are so versatile and are perfect for whatever style you love. Even if you prefer dresses and skirts, owning a pair as a back-up for colder days is ideal.
You might prefer to wear them country chic style or you might have an edgier style or be super girly; it all depends on which items you wear them with.
If your personal style is a complete mix depending on your mood, skinny jeans will be your perfect companion for any outfit or style.