Even when purchasing a standard pair of trousers, measurements are vitally important. There is nothing worse than wearing your best formal outfit and for it to be spoiled with ill-fitting trousers, whether they're too short, too long, too tight or too loose.
A good pair of fitted trousers will see you through so many different occasions. Think about which type of trousers you might get the most wear of them. Maybe it's a pair of black or dark grey office wear trousers because you have to wear them for work and attend a lot of formal and corporate events? Perhaps you have a more informal working environment and wear your beloved chinos daily and could do to replace them? You might work in the countryside and wear overtrousers for the most part and just require a pair of trousers for the weekend? Jeans are another great piece of clothing that need to fit just right.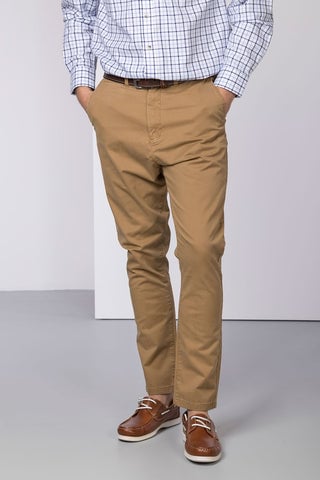 Whichever style sounds like you the most, you will still need trousers that fit properly. In fact, spending a little bit more on a pair that fit you perfectly will save you money down the line. The better they fit, the more you will wear them and the longer they will last, rather than having to replace them regularly.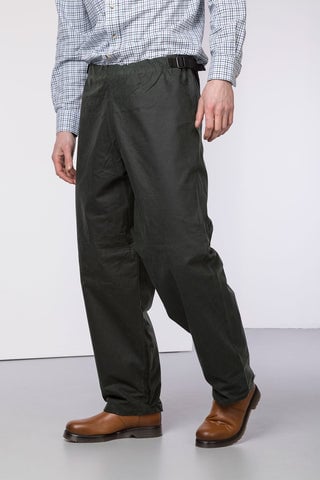 In this guide, we'll show you our top tips when measuring for trousers as well as the key measurements you will need to jot down before purchasing. It might seem complicated now but it's important to get them right beforehand.
How to measure for trousers: top tips
Before you start taking any measurements, we thought we'd go over some of our top tips first. If you're going to be investing in a pair of fitted trousers, it's best to get it right the first time or it will cost you a lot more further down the line!
Always use a soft tape measure for accurate measurements. They're easier to move around than a metal or paper version and much more reliable. They're designed for body measurements so make use of them. If you don't have one, they can be pretty inexpensive to find one and you'll find they come in handy quite often.


Stick with either centimetres or inches. It might sound silly but you'd be surprised by how many people take their measurements in a mix of the two! Jot down your measurements in one or the other; you can always convert them if needs be.


Wear your favourite trousers to get accurate figures. By wearing a pair of trousers that you know fit you well and are comfortable to stand up, sit down and move about in, you'll get much more accurate measurements. You'll also know if they're a little too short or too long to adjust the measurements accordingly.


Hold the tape taut but not tight. You want it to be an accurate measurement and pulling the tape measure too tight won't give that. You'll end up purchasing trousers that are incredibly snug that you won't be able to move freely in them or even sit down!


Keep relaxed. Don't breath in to get a smaller measurement and try to relax. If you tense up, you will get inaccurate measurements, often much smaller than your actual size. When you purchase the trousers and try them on, you'll be annoyed they're too small!


Get a helping hand. It's much easier when someone else is measuring you as you can stand tall and let someone else concentrate! They will also take more accurate measurements as they're less likely to reduce them like you might yourself.
The six key measurements to take
Whilst you can measure the trousers, it is better to measure your body as the measurements will be true. This is why you need someone else to take them for you as it's almost impossible to get accurate numbers on your own!
We acknowledge that there are probably more than six measurements you could take but when it comes down to it, these are the six key ones that really count. Whether you're buying a pair of trousers off the rack in a shop, online or getting a pair made for a special occasion, there are the six measurements a tailor would take! Here are the six key measurements you need to get the perfect pair of fitted trousers.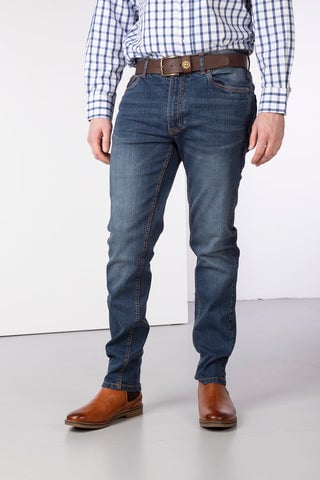 Waistband - Probably the most important measurement, the waistband is what most men's trousers are measured by. Start by wearing your favourite trousers to determine how high or low you wear your trousers. Most of us wear the top of our trousers around our belly buttons but it can differ per person. Loop the tape measure around the top of the trousers for the best result.
Hip/seat width - If you're purchasing tailor-made trousers, hip width measurements may be required. There is nothing worse than trousers that you think fit you until you sit down and find them uncomfortable! Measure around the bottom of the pockets of the trousers you have on to get your seat measurement.
Inside leg - Whilst trousers can be adjusted, it is best to purchase the right fit to begin with to save money. Your inside leg measurement is crucial because trousers that are either too short or too long will not be suitable for any occasion! Measure from your crotch down to the hem of the trousers or your ankle bone. If you prefer them longer, try sitting down in multiple pairs to see which style you feel comfortable in.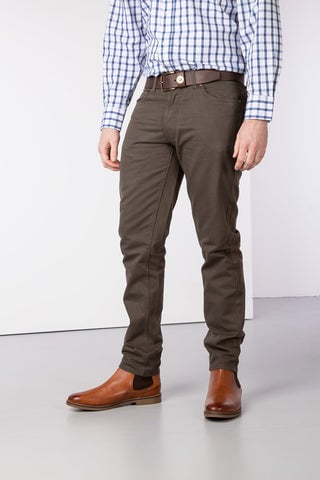 Outside leg - Although most standard trousers take inside leg measurements into account, an outside leg size can be required for made-to-order styles. For this, measure from the top of the waistband to the hem of the trousers. Again, wear a pair of trousers that you feel the comfiest in so you can get an accurate measurement.
Rise - Instead of measuring yourself again, all you need to do to calculate rise is to deduct your inside leg measurement from your outside leg figure. A regular rise on men's trousers is between nine and 11 inches but depending on your height and body type, you may need a shorter or high rise style.
Across the thigh - Again, this is not a standard measurement but worth taking all the same. You should measure around three inches below the crotch and around the thigh. Men with stockier legs may not be able to wear skinny-leg styles of trouser and straight leg styles might look like a skinny version on them!
As you can see, even with the correct figures, trouser measurements can be tricky. It's a series of trial and error to find the correct trousers, not only for your body but for the occasion too! We recommend trying on several pairs before settling on the perfect pair. Move around in them to test for maximum comfort too! Different companies offer ranges of trousers that will all fit differently, even if their measurements are exactly the same. Even one brand's sizing can differ from one style to the next! Measuring for trousers might seem like a long, drawn-out process but it is worth it for that perfect pair!