It's not unusual for many of us to think that walking a dog in London means city streets. However, there are so many open, green spaces throughout the capital. If you look close enough, you'll find some gems amongst all the hustle and bustle of a busy city.
Whether you're looking for fresh scenery or a pre-laid trail, London is one of the most dog-friendly cities across the world! Staying away from touristy areas is usually your safest bet for a peaceful walk but you'd be surprised at how many dog walks there are in the capital.
We've rounded up five of our top picks for dog walks in London, from acres of green space to inner city walks that hopefully aren't too busy most of the time.
Epping Forest - North London
This 6.4 mile stretch is one of the most versatile outdoor spaces in London, With nine marked trails, 30 car parks and four visitor centres, you will find just about every outdoor activity here. You'll find the Epping Forest borders Greater London and Essex so is popular with a vast amount of the population in both areas. The most popular is the Oak Trail, taking around two and a half hours on the full route.
Across 5930 acres of green space, you'll find shrubbery, lakes, rivers, bridges, lots of scenic spots, and even a deer sanctuary! The space has inspired many famous arts and literature, who have spent time in the plentiful green spaces or lived in lodgings close by.
This park is filled with runners, cyclists and walkers as well as lots of group activities and families. There are tons of peaceful spots to sit and enjoy a few hours outside to sit and read or a mid-walk picnic. Alternatively, there are football pitches, a golf course, cricket greens, and lots of horse riders around.
Epping Forest is a beloved space by so many because of its vast size and activities. Even if you've walked all of the trails, there will still be parts of the park you've yet to discover. Whilst there are tonnes of quiet spots to spend time in, there are also always so many things going on there too.
Battersea Park - Central London
Built between 1854 and 1870, Battersea Park is a beautiful area in central London. Situated on the South Bank of the Thames opposite Chelsea, you can explore 200 acres of green space here! Many use it as an escape of the fast-paced nature of the capital for fresh air and peaceful spots.
After an £11 million refurbishment in the early noughties, the park has since hosted an array of events and festivals over the years. With gardens, trees, sculptures, playgrounds, a zoo, as well as lots of walks of varying length, it's one of the most versatile parks in the capital.
With the train station just a short walk away, it's one of the easiest outdoor spaces to access in central London. There are a handful of eateries inside the park but it's also surrounded by cafes, pubs and restaurants just on the outskirts. There's even a shopping centre across the road so the area is definitely somewhere you can spend the day with the family.
Regent's Canal - Central London
If you're looking for a quieter city walk, the Regent's Canal is perfect for you and your pooch. This nine mile walk from Little Venice to the River Thames has become increasingly popular for those wanting city vibes on their walk but without lots of people out and about. You can start this walk from anywhere along the route, such as Camden or St Pancras/Kings Cross to shave off a mile or two. Many walk Little Venice to Camden or Camden/King's Cross to the River Thames for a shorter version of this walk (less than 3 miles each).
For those who love to stop along the way, there are a tonne of eateries along this route. With everything from local and chain coffee shops to fine dining, just be sure to check which are dog-friendly first. You'll also pass London Zoo, markets, bridges, gardens, and other touristy spots if you want to sit outdoors instead.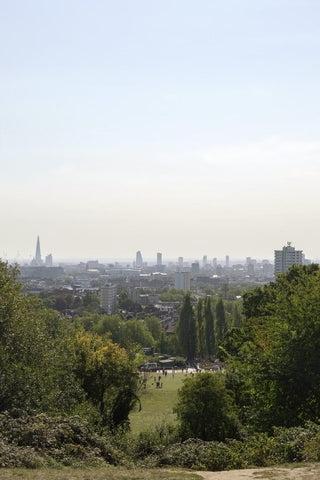 It's definitely a different way to explore London but you'll be surprised by how many monuments and famous spots you'll see along the way. However, it's one of the busier walks in the capital so if you're looking for peace and quiet, it might not be for you. Expect to see lots of other dog walkers too. It's the ideal walk to walk with friends so you can have a catch up on the way.
Wimbledon Common - South London
Wimbledon Common is actually made up of four areas (Wimbledon Common, Putney Heath, Putney Lower Common, and the Richardson Evans Memorial Playing Fields) over 1140 acres of green space. It's made up of woodland, scrubland, heathland, and grassed recreation areas as well as nine ponds and a golf course. It's popular with walkers, cyclists and horse riders, each having their own designated paths and routes.
Technically, this isn't a park as it's open 24 hours a day and isn't enclosed. That makes it popular from morning to night, with people always in this park. In fact, you can even hold parties with a gazebo here, provided you let the Ranger's Office know and they will find a suitable area for you.
There are a couple of things to be aware of though. From March until August, dogs must be kept on a lead here, due to bird nesting season. Also, you are not allowed to walk with more than four dogs, no matter how many people there are in your group. It's best to stick to just one or two friends or family members for a quieter walk here.
Hampstead Heath - North London
With some of the highest points in London on Parliament Hill, Hampstead Heath is a popular choice for a range of activities. This dog walk runs from Hampstead to Highgate with plenty of meadows, woodland, stately homes and some of the best pubs in London en route.
Activities in this area range from athletics to fishing, cycling to cricket, as well as walkers and runners. You'll see a wide variety of people and activities happening in this park. There's even a regular Ramblers society which anyone can join for a regular community of walkers.
Hampstead Heath is famous for holding an array of events throughout the year so make note of them if you prefer a more peaceful dog walk. With lots of grassy areas, this route can get muddy quickly so be advised to wear wellington boots or proper walking boots on these trails. Maybe take a waterproof jacket for your dog too and don't forget to pack a towel!
Whilst you might not think that London has many quieter dog walks, there are plenty of green space options that don't require barging by commuters on a daily basis! You also don't need to pack a day's worth of snacks either because every park and walk has plenty of food and drink options along their route! Explore the capital with a change of scenery from busy city life.