For years, wellies had a reputation of being practical, uncomfortable and unfashionable. However, since then, country clothing has increased in its popularity and there's been a demand for more stylish designs, better fits and extra comfort.
When it comes to wellies, whilst you want them to look trendy, the most important qualities are comfort and practicality. That's why we've designed a range of women's wellies for a range of occasions, from the occasional downpour to farm work. We want you to be able to get a long life out of your wellies, which is why we've tried to use the highest quality materials when making them.
In this guide, we'll share some of our favourite wellington boot styles for women, covering everything from traditional knee-high wellies to shorter lengths. We've also included our extra sturdy neoprene-lined style in our round-up too, perfect for those working outdoors. Have a read of this blog post and determine which style will be best for your lifestyle, whether you'll wear your wellies daily or infrequently. A country lady still needs a pair to hand when the weather takes a turn for the worse.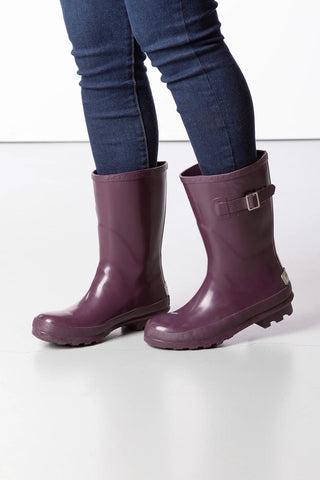 Ankle boots
It seems strange talking about wellies in an ankle boot style but they're much more practical than you might think. Coming in a Chelsea boot style, they're the perfect version to wear during lighter rainfall. They have all the properties that you'd expect from a regular Chelsea boot but made from rubber instead, rather than leather.
With elasticated side panels, a pull-on tab at the back of the boot, and a chunky rubber sole, they're ideal for running errands in the local town on rainy days. Don't leave it to chance when the weather looks overcast. Slip on a pair of ankle wellies and keep your feet warm and dry.
Many of us here keep a pair of these in our car boots for emergency downpours, especially during the summer. Think about when you've been out and about in sandals or canvas sneakers and then it starts to rain. Save your summer shoes by switching into your new ankle wellies!
Mid-calf wellies
Many people find wellies restrictive but don't particularly like a short, ankle boot. You might have more athletic calves and struggle to fit into knee-high wellies, or perhaps you're petite and longer wellies just swallow up your legs. Our mid-calf wellies are perfect for everyday life. This style is very popular for spring and summer festivals, whether that's for a country show or a music festival! They're more lightweight than a full-length wellington boot but still give you that waterproof protection, which is always needed when outdoors in the UK.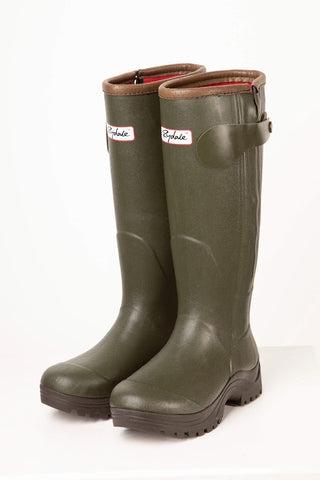 The glossy exterior not only looks very fashionable, it also makes them really easy to clean, with only a quick wipe needed after most wears. We've added in an extra cushioned inner sole to make sure they're comfortable for longer usage too. Once again, the thick rubber sole means you can wear them on uneven terrain, such as countryside walks, without worrying about being unsteady on your feet!
We've kept the buckle on the top of the boot as many people prefer to be able to tighten the boot to their leg securely. This style is snug around the foot but with a little extra space around the calf. As always, if you plan to wear this style with boot socks, size up so your feet don't feel too restrictive in them.
Knee-length wellies
Lots of us prefer to wear a traditional knee-length wellie and will always like the look of a classic style. A pair of wellies is something most of us have but don't wear as often as we probably should. Whether it's working outdoors, gardening, walking in the countryside, or just general country living, you can wear them for most outdoor events. Some people even wear them to countryside weddings if the weather's been particularly bad!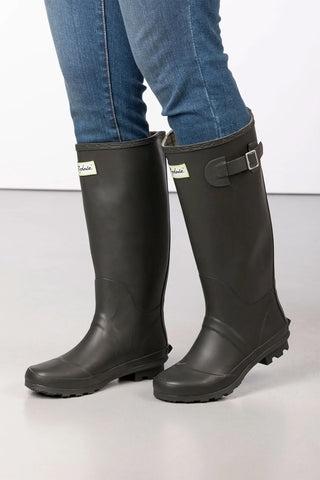 Whether you prefer a glossy or a matte pair, our newer styles feature a breathable inner lining, perfect for when you're on your feet all day. The thick, sturdy sole is made with rubber, meaning it's tough whilst still being flexible enough to wear for long periods of time.
Once again, the adjustable side buckle makes these ideal for every woman, giving you the perfect fit on your calves. Many people prefer to leave the buckle as it is but for those with smaller calves, it can be best if you make them a little tighter. As long as they fit around the foot, they shouldn't fall off.
Our glossy option is a customer favourite as it makes your wellies seem extra special. Many women wear theirs out and about because they're comfortable, practical and stylish! Coming in four colourways as well as two country patterns, you can pick the design that best suits the rest of your wardrobe.
If you prefer a classic colour, our regular wellies are perfect for that. With this design available in olive and navy, it's a traditional wellie that will go with most outfits.
Neoprene-lined wellies
Insulated wellies are a must if you work outdoors or if you spend a great deal of time in the countryside. You'll notice the difference straight away is the much-thicker tread. Whilst we've made the tread as grippy as possible, it does make them a little more difficult to walk a larger distance in. However, this makes them ideal for snowy and icy conditions as well as thick mud!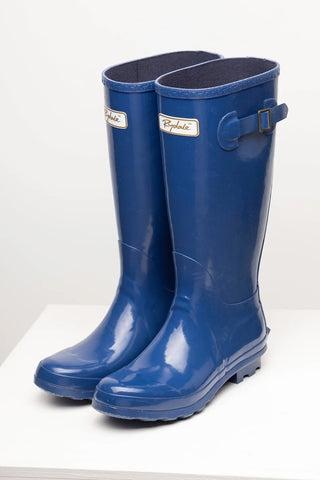 The neoprene lining will make your feet and calves super cosy, and by adding a pair of boot socks underneath too, you won't want to take them off! It also ensures that these wellies never lose their shape, making them last much longer than a pair of standard wellies.
Whilst we still have our original design for sale, we have since updated it. The new style features a concealed side zip, a press stud buckle, and a leather upper boot trim. These small but important extras make the wellie feel a little more luxurious and feminine. However, we also didn't want these to overshadow the main reason for purchasing a pair of wellies: practicality! The sturdy, thick tread is still there and the rubber sole is just as hard-wearing as it has ever been.
Purchasing wellies can be a quick decision but if you live or work in the countryside, you might want to consider our entire range of wellington boot styles. You might prefer a design with a thicker tread or lining, or might opt for a lighter, shorter pair, such as an ankle boot or mid-calf wellie. Whichever style you choose, you know it's been made with our highest quality materials and is perfect for any country lady.