It can sometimes be a controversial topic amongst dog owners about whether or not dogs should wear clothes. Many believe that dogs should just wear their natural coat as that's the way it was meant to be. Others believe that using clothing to help protect themselves should be seen as a positive.
There is a huge difference between styling your dog to look 'fashionable' or 'trendy' and using clothing to actually protect their bodies. We're firmly in the latter camp as clothing can help to keep them warm and reduce the risk of being outdoors.
In this guide, we'll look at both sides of the arguments, the positives of your dog wearing clothing as well as the negative. We'll also share some of our favourite pieces from our dog coat collection so you can make up your own mind whether it's something your own dog needs or not.
The pros to dogs wearing clothes
We'll start by looking at the reasons that you should invest in clothing for your dog. Again, the clothing in our collection is designed to protect your dog whilst still looking the part so whilst it is definitely fashionable, it's practical too. Here are a few advantages of having your dog wear clothing.
Protection
First and foremost, this is the main positive to your dog wearing clothes. Especially for short-haired dogs and smaller ones too, they can struggle to regulate their own temperature compared to larger dogs. Because you can buy a variety of jackets, you can have a lighter one for summer and a heavier duty one for winter. It can be a game of trial and error to find which coats your dog is comfortable in.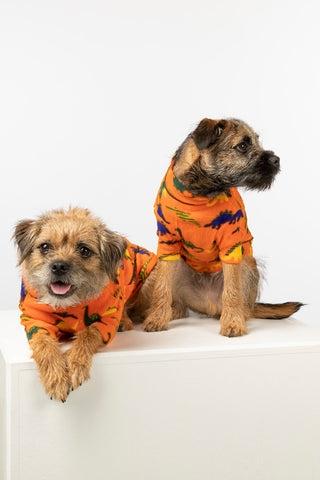 Cleanliness
If you want to keep your dog as clean as possible, get them a coat. Whilst it won't protect their paws or head from getting wet or muddy, it will protect the rest of their body. Trust us, it's easier to wash a jacket than your dog! You can even find waterproof coats to keep them even drier during your walks in the countryside.
Safety
A brighter coloured coat will stand out, making it ideal for countryside walks, especially during early mornings and later at night. Many of us wear brighter clothing ourselves when we go out walking so you can be seen. Why not apply the same principle to your dog's jacket? Many of our jackets have reflective piping to help them to be seen on darker evenings too.
Style
Whilst it's not the main reason, dog jackets really do look stylish now. You can purchase them in different colours and materials so your pooch can really stand out from the crowd. With so many designs to choose from, you can even match your dog's jacket to your own! Now how stylish would you look on your daily walks together?
The cons to dogs wearing clothes
However, whilst there are positives to your dog wearing clothes, there are some negatives. You need to determine which outweighs the other before purchasing.
Irritation
Some synthetic materials can cause dogs to itch, making them irritable. We recommend sticking to cotton blends, such as fleece and wax cotton, to ensure they feel comfortable. Every dog coat must be breathable to allow their fur to breathe itself.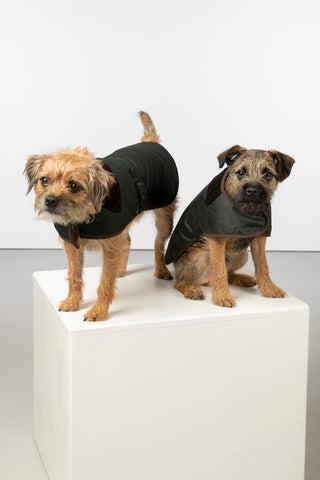 Overheating
Many dogs are able to regulate their own temperature because of their fur. It's important to research your dog. On the whole, larger dogs and longer haired dogs are able to regulate heat much better than smaller or shorter haired dogs.
Fashion
Whilst our collection of dog coats has been designed to be practical and stylish, some dog clothing is designed to be just the latter. Whilst your dog might look super cute in an outfit, it doesn't mean it should be wearing it. Dog jackets should be as simple and plain as possible without extra buttons, tassels or strings (these are all choking hazards).
Our favourite dog jackets
When it comes to dog clothing, our selection of jackets, coats and fleeces not only look cute but they're as practical as can be. We've made many of our human style jackets into dog versions so the pair of you can look the part when out and about! Here's a closer look at a handful of the designs in our collection.
Fleece jackets - Our most popular style, fleece jackets are perfect for drier days. With this style, we have as much colour choice (18, in fact) as you can handle in our Yarpham style. This version comes in five sizes so there is a size for most pooches. With a fully zipped back and Velcro neck fastening, we've tried to keep this style as easy to get on and off as possible. With the fastenings all on the dog's back, it makes for an incredibly safe jacket as there is nothing for them to choke on. Whilst fleece jackets aren't waterproof, they're ideal for lighter showers and can be thrown straight into the washing machine when you return home!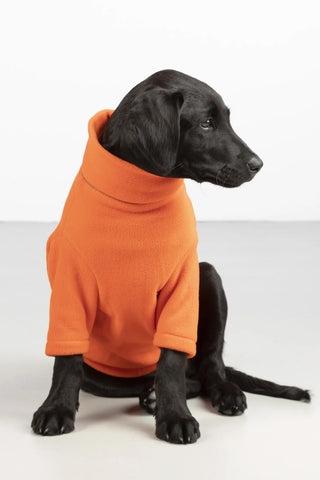 For more elegant dogs, we've made our popular adult fleeces into dog fleeces! The Huggate and Harpham designs have sophisticated leather trims and come in an array of darker, neutral and jewel colours. Both of these styles have a higher collar so offer extra protection too for smaller dogs.
Tweed coats - Make sure your dog is just like all the other country folk with its tweed coat on! The thicker sherpa lining makes it the ideal coat for winter for short haired dogs so they can stay warm but comfortable. The wool blend tweed itself is tough and hard wearing so it should last your dog a number of years. With seven stylish colour combinations to choose from, we guarantee your dog will get a lot of compliments on their new tweed coat.
Wax coats - If you're looking for a style that is practical but one that your dog won't overheat in, a waxed cotton coat is perfect for you. Our version has a beautiful checked inner lining and a soft corduroy outer collar to give it some extra country style. With a velcro fastening under the neck and a belt fastening under the stomach, the wax coat can be as secure or as loose as your pooch prefers. We'd always recommend securing it snug but not tight. Waxed cotton is also easy to clean with a quick wipe down after every wear!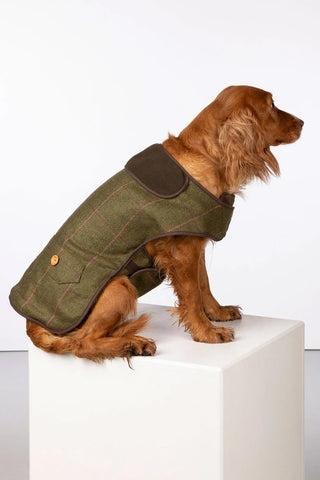 Quilted jackets - If your dog is prone to getting cold easily and often, how about trying a quilted jacket instead? We offer a couple of versions of this style too. The hybrid jumper-fleece option zips down the back and has a Velcro neck fastening too. The body is quilted with the collar and arms made of fleecy material. The extra padding will definitely help to keep your pooch snuggly and warm!
The other option is the tweed quilted dog coat, which has an open underbody. It is secured with Velcro fastenings under the neck and stomach with a tweed collar for extra style points. The soft cotton, checked inner lining will ensure your pooch stays warm on longer walks too.
Raincoats - When the weather is awful outside, the dog still needs walking! You'd put on a waterproof coat yourself so make sure your dog has one too. Our range of raincoats emphasise our love of practical, stylish clothing with lots of colours and patterns featured in this item! With longer leg sleeves, a zip back fastening and a higher Velcro fastened collar, it has every element you'd expect in a waterproof coat!
As you can see, we aim to have our dog clothing collections as practical but stylish as they can be because it's important that dog coats especially are functional and safe first and foremost. We'd also love to see your pooches in their dog coats so don't forget to snap pictures of your precious pets in our dog coats and tag us on social media!