Not being biased at all but Yorkshire is our favourite region. We're Yorkshire born and bred, after all! It's home to some of the best cities and towns but we're mostly known for our beautiful outdoor spaces (and Yorkshire puddings and the best tea). Home to the North York Moors, the Yorkshire Dales and the Peak District, three of our UK National Parks, the public are drawn to coming to our area to make use of our gorgeous scenery.
We're so blessed in Yorkshire to be spoilt for choice when it comes to our countryside. Whether you're after an all-day hike or just a gentle hour-long walk on your doorstep, you won't have to travel too far to find a walk for you. There is a walk for all abilities too, whether you're disabled, have mobility issues or are looking for a family-friendly walk.
In this guide of the best dog walks in Yorkshire, we've chosen one walk from each of the four regions, just so nobody feels left out. Some areas have better access to country walks than others but there is definitely something for everyone in every region. And of course, we've scoped out the walks with plenty of cafes and pubs close by because that's the most important part of any walk, either halfway through or right at the end!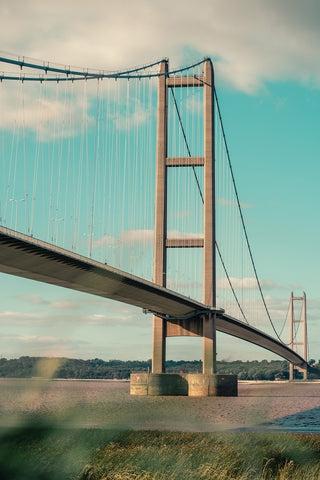 Humber Bridge Country Park
Hessle, East Yorkshire
5 miles
25 hours
Easy
For those in East Yorkshire, the Humber Bridge Country Park is a rite of passage. Many in the area have been visiting the park since their schooldays and have explored the entire park multiple times. However, you often discover a new area in the country park on each visit.
In this nature reserve, you'll get to explore woodlands, grasslands, ponds as well as a river-front walk or cycle. There are various trails in this one park: the meadow trail, the pond trail, and the cliff trail.
After your walk, Hessle Foreshore is the perfect place to relax. Pack up a picnic to eat here or on one the many picnic benches around the park. There are also a handful of pubs nearby for a more hearty meal, whether you're after an all-English breakfast, a burger, or a sweet treat!
If you really want to, you can walk across the bridge and visit friends across the river in Barton-upon-Humber. However, there is enough in the country park to keep you occupied. If you do plan to go across the bridge, it can get cooler up there so don't forget to bring a lightweight waterproof jacket!
Rivelin and Redmires Circular
Peak District National Park, South Yorkshire
7 miles
3 hours
Moderate
Starting at the Rivelin Dams, this circular route takes you past Wyming Brook Nature Reserve and to Redmires Reservoirs before returning back along this route. If you're looking for some variety in scenery, this walk has everything, from moorland to forests and everything in between!
There is a steep descent to begin your climb so be prepared with sturdy and grippy footwear and walking poles if necessary. The ground will be a mixture of country roads, surface paths, and rough pastures, so be aware that it is designed for confident walkers.
And when you're done, there's a small farm cafe (Rivelin Park Cafe, close to the playground) with some incredible homemade cakes and large cooked breakfasts. Well deserved after getting your heart rate up!
Scammonden Dam
West Yorkshire
9 miles
5 hours
Easy
Here, there are a range of activities happening, not just dog walking. It's a popular spot for hiking, bird watching, mountain biking, horse riding, and photographers, due to its beautiful, peaceful scenery.
With three free parking areas, it's a popular spot amongst families, with ample picnic areas and rest stops around too. There are clear pathways and a handful of steps, making it perfect for novice walkers. It's open all year long too so wet weather clothing and shoes are advised. The paths can get slippery after rainfall so wear sturdy walking shoes or boots on this trail.
For those who want a challenge, a climb up to Deanshead Reservoir offers a stunning view of the valley below.
Dogs may go off lead in some areas but of course, just be aware of others around you.
Robin Hood's Bay
Scarborough, North Yorkshire
5 miles
5 hours
Easy to moderate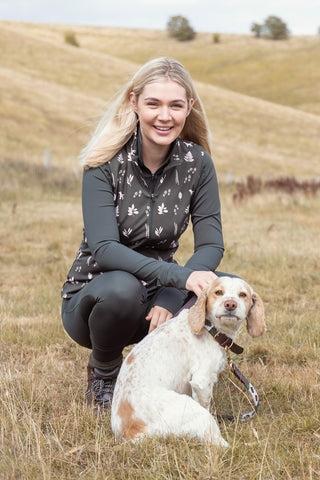 The Robin Hood's Bay circular coastal walk is one of the most scenic routes in Yorkshire. The town of Robin Hood's Bay is popular amongst outdoorsy folk so expect it to be busy on spring and summer days or anytime the weather is nicer!
Even on the driest of days, the coastal path can still get sticky and muddy. Wearing thick-treaded walking boots or shoes are a must, as well as layering up. The coastal breeze exposes most of the walk so windproof and waterproof gear won't go amiss.
There is no fence on the cliff edge so it's best to keep dogs on a lead and a watchful eye on any children. Other than that, the route has a path carved out and lots of signposts throughout the duration of the walk.
For a further distance, try the Robin Hood's Bay to Whitby walk. This 6-mile stretch takes you along coastal paths before finishing up at Whitby Abbey. Exploring Whitby, one of our favourite towns in Yorkshire, is a great incentive to end with. Who doesn't want those legendary fish and chips after a long walk, hike or cycle?
The best dog walks in Yorkshire all come with beautiful scenery as well as a chance to sample local hotspots, such as towns, villages and eateries. You'll find most eateries on these walks use local produce and help to support the local economy. We're big believers in supporting UK-based businesses and who doesn't love a bite to eat and a cup of tea/coffee/a beer/insert beverage of your choice here after a long countryside walk?
If you're looking to book a UK holiday or simply fancy a change of scenery for the day, check out the rest of our UK dog walking guides.