Whether you're a regular equestrian or you're going horse-riding for the first time ever, you really need to look the part. However, it's the opposite of the saying 'all the gear and no idea'. In fact, for horse-riding, there are certain items that you need for safety and comfort reasons.
Do your research beforehand and see which items can be rented or borrowed from the stables you'll be visiting. A helmet, riding gloves and a body protector are the items you should check for as these are a must for safety reasons. If you're a newbie, it seems silly to invest in some pieces because you might never go horse riding again! If you're a regular, investing in your kit will save you lots of money in the long run.
For this article, we're going to focus on clothing as we've expanded our range of women's equestrian clothing to suit a range of activities and climates. We'll go through what we consider our essential items but as you know essential doesn't have to mean bland! Expect colours, patterns and items for all shapes and sizes.
Heeled boots
First and foremost, let's start with the most important part: footwear. Give a woman the right pair of shoes and she can conquer the world, right? Most of us know from experience that the wrong pair of shoes can ruin any activity or occasion so it's a great place to start.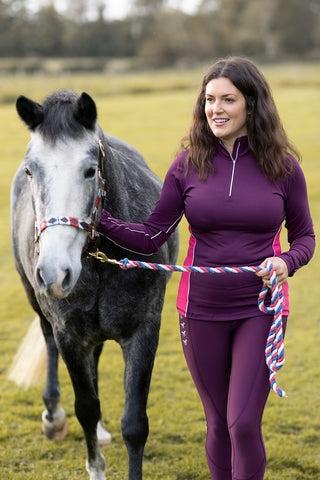 When it comes to horse-riding, you have to think practically. You want something fitted and streamlined and without too much excess material on, such as embellishments and tassels. You also need to make sure that there is a low heel attached. It shouldn't be a large heel but it will prevent your feet from slipping through the stirrups. As always, we recommend buying a style that you'd wear on other occasions, just in case you don't take to horse-riding. We wouldn't want you to waste your money on specialised kit when a regular pair of heeled boots would be the perfect all-round shoe.
Our number one go-to pair has to be the Chelsea boot. We'd recommend leather because it's much easier to clean than suede and we all know that horse riding is not the cleanest sport to partake in! Whilst you don't want a high heel, all Chelsea boots tend to have a heel of sorts on the sole. For a super wearable pair either when riding or when out and about, a brogue style in a gorgeous tan shade is a great place to start. The brogue detailing gives them an update on the classic Chelsea boot style but is still suitable for dressier occasions too.
If you prefer an even more modern take, switching a tan shade for a grey or navy is a modern twist. With the tweed back panel too, these make the perfect boot for everyday style and the occasional horse ride. They're suitable for the office, shopping trips, nights at the pub and trips to the stables.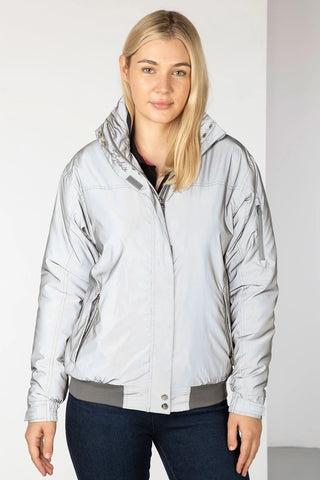 For those who will take up horse riding as a hobby, it's best to invest in a pair of jodhpur boots. This style comes in black and brown so you won't have to worry about whether they go with any outfit or not. The soles and upper leather are softer than an everyday boot as they are designed to be supple and mould to your feet. The elasticated side panels and pull on tabs make them easier to get on and off too.
Riding tights or jodhpurs
When you're sitting on a horse, you want to be as comfortable as possible. Your trousers are the main issue when it comes to comfort levels. Many first-timers end up shuffling about too much or pulling at their trousers. This doesn't make for a great riding experience. Your bottoms need to be fitted, stretchy and preferably grippy on your inner thighs. Prioritise comfort sitting on a horse before how they look off a horse.
However, at Rydale, we like to try and blend the two as much as we can. Riding tights and jodhpurs are much more stylish than they used to be and with the rise in leggings and jeggings, you could definitely wear them elsewhere if you wanted to. Jodhpurs don't have to be expensive and with our cheapest pair at less than £25, they're not as pricey as you might think.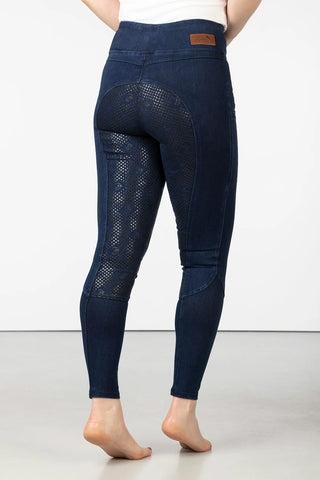 Our classic beige jodhpurs will give you the equestrian look as soon as you put them on. The stretchy fabric and extra panels around the inner calves offers extra support for riding. They look just like a pair of jeggings so you just know they'll be incredibly comfortable. Alternatively, you could opt for a pair of modern jodhpurs, which look even more like a pair of skinny jeans. With six shades to choose from, you can even add a bit of colour into your day too!
If you want something even more practical, a pair of riding tights with a phone pocket and a grippy seat provide even more comfort. The wider waistband and elasticated Spandex material can make them stretchier than traditional jodhpurs so are perfect for newbies. The fleece lining makes them suitable for winter but the lightweight material means you can wear them during warmer days too.
Fitted top
Here is where you do get more choice. With your top half, you want your clothing to be fitted so it doesn't get tangled or caught on anything. Don't wear something too tight or uncomfortable though or you'll be tugging at it instead of enjoying your experience. You can go for any sleeve length, from cap sleeves to longer sleeves. We're big fans of wearing our classic country shirts in whatever colourway you want. Pastels look particularly pretty during spring and summer meaning winter was made for richer, jewel tones. However, you can definitely wear any colour at any time of the year!
If you want to feel a bit more casual, a fitted polo shirt is ideal for summertime on its own or worn with a fleece or jacket when the temperature drops. Opt for a bright colour or keep it neutral for even more versatility. For those who prefer longer sleeves, rugby shirts could be your go-to casual top of choice. They're thicker than your average T-shirt due to their durable cotton material but you won't overheat in one either.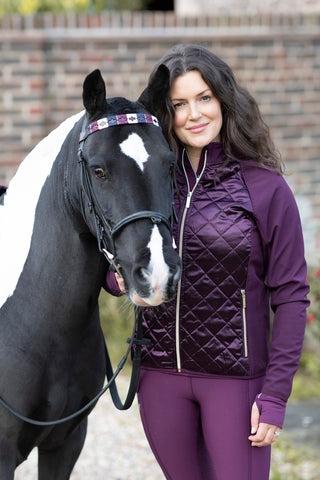 Alternatively, you could layer a basic T-shirt underneath a stretchy riding half-zip top. These new additions to our collection match our selection of riding tights so you could buy a full set if you wanted to. The fleece lining makes them super warm but they also make a great base layer for colder weather. We wear ours all the time when it's a bit nippy outside!
Jacket or coat
On colder days, layering is so important when horse riding. However, many coats and jackets are often too long for the activity. You must make sure that any jacket, fleece or coat is short in length so it doesn't mess with the saddle. Again, the main issue is finding a jacket or coat that has a little stretch and is extra comfortable too.
An equestrian bomber jacket makes the ideal jacket, coming in eleven colours for you to choose from. The elasticated waistband makes it easy to move in and the extra pockets will always come in handy on longer rides. The foldaway hood is ideal for drier days so it's not flapping around in the breeze behind you. Once you get this jacket on, you won't want to wear anything else. It's one of our most practical jackets and many here wear theirs daily.
If it's not cold enough for a jacket but you still need an extra layer, a hybrid quilted jacket-fleece would be ideal. The leather trims give it a luxury feel and the gorgeous jewel tones make it look even more expensive. You could layer it underneath a coat on particularly colder days too so it makes a great middle layer piece.
For rainy days, a waterproof jacket is a must, which is why we produced our Askwith coat. It features two riding vents at the back to keep you and the saddle dry, reflective strips for safety, a fleece lined high collar to protect from the wind and stormproof cuffs to keep the warmth in. It makes a great everyday coat too with plenty of pockets, a hood and a flattering drawstring waist.
Equestrian clothing can be inexpensive but we also believe in buying quality pieces too. Of course, we would never recommend buying lots of specialised clothing if you don't think you'll be using them but you should make sure you have the appropriate clothing for the ride and the weather conditions too. The overall equestrian look is streamlined so both the horse and yourself can be as safe as possible. Make the most of your existing country lady wardrobe and add in a couple of essential pieces to make your horse riding experience the most enjoyable it can be.