Don't be tempted to go on a long walk or hike in a brand new pair of walking boots! Whilst they might seem comfortable when you set off, you'll soon realise that you should have spent the time breaking them in properly at home before trekking in your new pair.
Walking boots are an investment item so we recommend making sure that you'll get the wear out of them. If you're only an occasional walker, you might get away with a sturdy pair of regular trainers. However, if you're committed to exploring outdoors and long countryside walks, investing in a pair of walking boots will see you get a return on your investment after a couple of excursions!
As we all know, a pair of well-fitting walking boots are a must for any outdoorsy type or anyone living in the countryside. They've been designed for longevity and comfort as well as support for your feet and ankles. Every boot and every foot is different from the next so finding the perfect pair of walking boots can be a challenge.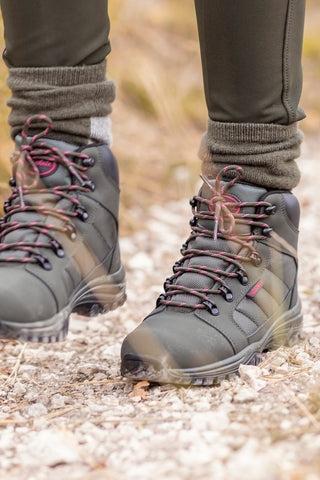 But fear not. We've created our ultimate guide to getting the right pair for you as well as our usual styling tips. Walking boots are incredibly practical but they can be very fashionable too! We'll show you how!
How to choose the perfect pair of walking boots
Think about your location
Before you select a pair of walking boots, you should think about the type of walks that you'll be going on. For shorter walks with well-trodden paths or on softer ground, a walking shoe with a more flexible tread and a thinner tread would be sufficient. For longer hikes, mountaineering, or uneven terrain, walking boots with added ankle support, a thicker tread and a more rigid upper boot. Don't forget to purchase a waterproof protector spray too!
Get your socks right
Before you even try on any shoes, it's important to get the right socks on your feet. Getting yourself some proper boot socks will change the fit of the boot more than if you were to try pairs on wearing regular ankle or trainer socks. Boot socks have been designed, with extra padding to the ball of the foot, the heel and the ankle. Walking socks offer sweat-wicking properties so your feet will stay comfortable and dry. Whilst you don't have to splash the cash, investing in a couple of pairs that you feel the most comfortable in are definitely worth it!
Think about which styles you like
Walking shoes and boots might all be similar but can all be very different. Some people feel uncomfortable in ankle boots whereas others prefer the extra ankle support that boots can offer. You might need a wider fit boot or a narrow fit around the heel, instep or toes. Perhaps you like extra support on your ankles or usually find that ankle boots rub against the bone too much. Jot down a few properties you like and don't like in footwear and keep it to hand when shopping for walking boots.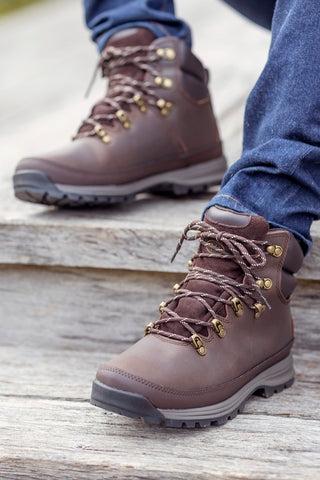 Get the right fit
Whilst this goes alongside boot styles, it can be more about how it fits on your actual feet. Even if you find a pair perfect for you, it might fit loosely around the heel or the instep. Adding in insoles or heel grips and switching up the laces can make all the difference. You want a snug fit with a little wiggle room. Too much room and your feet won't be supported. Too tight and you'll get blisters forever.
Break them in!
Once you've found your perfect pair, now you need to make them as comfortable as possible. Don't buy a new pair of walking boots a day before you plan on hiking. We recommend buying them at least two weeks before you need them and wear them around the house daily. Don't forget to wear your thicker boot socks too so your boots start to mould to your feet. After a week, why not try them outdoors on a shorter walk? Maybe take a back-up pair just in case you get blisters.
The do's and don'ts of wearing walking boots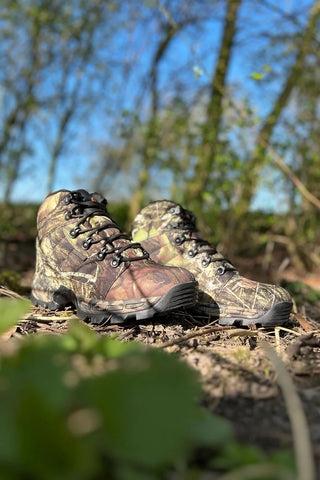 Do:
Take the time to get the right fit
It's unlikely that you'll find your perfect pair in your first shop. Either the style won't be right for you or the sizing doesn't match up. That's okay because it's worth taking the time to get the perfect fit for your feet. If you're purchasing online, consider buying a couple of sizes before returning them. If you're unsure of what styles you'd prefer, visit in-store to try on more pairs. You can always purchase a similar pair online!
Manipulate the leather
All this means is bending the leather to increase the comfort level. Think about where the boot will bend and just try to work the leather with your fingers. Pay particular attention to the upper sole, tongue and ankle area as these will be the most flexible areas you need.
Use a leather conditioner
To extend the life of your walking boots, don't forget to use a leather conditioner to keep them fresh and clean. You might not clean them after every hike but keeping them clean means your walking boots should last you a lot longer. Don't forget to remove any grit or mud from the soles too. If you start to get items stuck in the tread, the tread won't be as grippy!
Buy a massage ball
After long walks, your feet will be in pain, even with the comfiest of boots. A top tip is to buy yourself a small massage ball to roll under your feet after a hike. It will increase circulation and whilst it can hurt straight away, your feet will thank you the following day!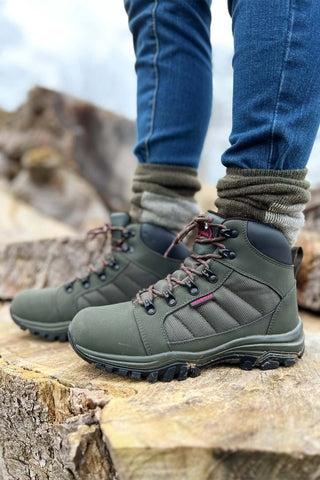 Don't:
Use a hairdryer or freeze your boots
With leather boots especially, you might be tempted to warm up or cool down your boots before wearing them. Heating them with a hairdryer can actually dry out the leather, making it crack much sooner than expected. Soaking your boots in cold water or freezing them can cause seams to split and them to go brittle. When you've invested money, that's not a good sign!
Ignore pain points
Whilst you should do this before wearing your boots out, you shouldn't ignore any pain points when you've already broken in your boots. If they're still pinching around the ankle or the front is too tight for your toes, try to counteract this with heel grips, insoles and extra cushioned socks.
Rush the process
Some boots, such as leather, can take longer to break in than synthetic materials. That means you might need to purchase them further in advance, such as a month. However, if you get yourself organised and give yourself time to break them in properly, they'll fit like a glove when you actually need them!
If you're in the market for new walking boots, our selection of both men's and women's footwear could be perfect for you. Browse our pages to see if there's a style that suits you.