Choosing the right backpack for a journey out of the house is a difficult choice for us. The bigger the bag, the more we will find to fill it and therefore the heavier it becomes. Take a bag that's too small and you'll probably break the zip trying to cram everything into it.
Whilst we don't recommend cramming your backpacks full of stuff, we understand that sometimes you need to carry a fair bit and other times, you might just need the daily essentials. Our range of backpacks will see you from a day long hike in the countryside to a trip to a local town for the day and everything in between!
We've gathered up all of our tips and tricks to help you figure out the right backpack for you. From how to choose the right one to the various designs we have on offer here at Rydale, keep reading to help you decide which style is perfect for your trip!
How to choose the right backpack
It might seem like a simple task to choose a backpack but you should ask yourself the following questions first. You know we like you to get the most out of your purchases so answering a few questions beforehand should help to narrow it down to which design is going to be best for your lifestyle or trip.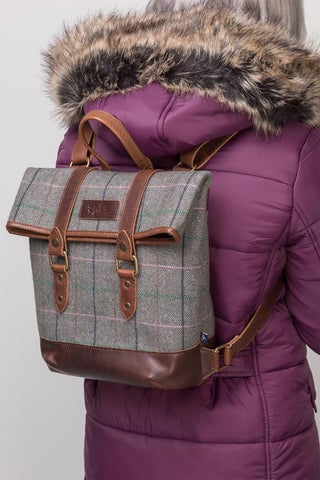 How long will you be going for?
For any trip, whether it's an hour or a full day, you need to have a rough estimate for how long you'll be out of the house for. The longer you'll be out, the bigger and more sturdy a backpack you'll need as you'll need more supplies, such as food and drink.
What type of trip is it?
Will you be going on a countryside walk or hike or through a town or city? If it's more of an outdoorsy trip, you'll need something substantial, such as a sports rucksack. For day trips for shopping and activities, you can get away with a tweed or leather backpack for extra style points. Of course, you should always check the weather first too!
Who will be wearing the backpack?
If you're going with another adult, you could either have one backpack each or take it in turns to wear one. You need to make sure you both feel comfortable with the weight of it before you leave the house. You'll also want to choose a design that you both like!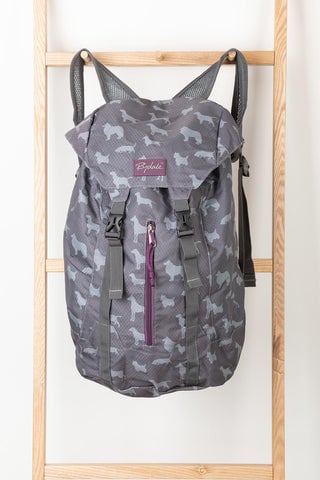 When will you use it?
If you'll use it for more than just an occasional walk or hike, you'll want a style for everyday that you can use for walks too. Make sure it's functional for when you'll use it most, such as a work day, otherwise you'll rarely use it. If you only go for shorter walks infrequently, a pack and go style might be more suited to your lifestyle.
What facilities will you have nearby?
The more facilities available, the less you need to carry. Even if you're going for a country walk, you might pass through a local town. Research beforehand your route and see what local towns and villages have to offer. Do they have a village shop or a coffee shop? That might mean you don't have to pack a lunch, just a few snacks. They might even refill your water bottles if you ask nicely!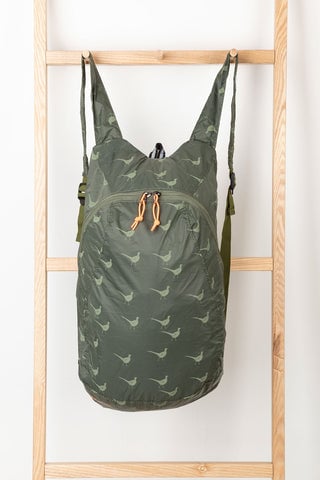 Our favourite backpack styles
Once you've decided what you're looking for in a backpack, it's time to pick a style that has the most features that you want. Again, think of when and where you'll use it but also what you'll be carrying!
20l day rucksack
Our best all-rounded is our 20L day rucksack, perfect for work, school and outdoor activities. If you're after a traditional sports backpack, this is the perfect option for you. It has two main zipped compartments, two mesh lined side pockets and a hidden zip pocket at the back. Inside, there is even more storage with two phone pockets, two pen holder pockets and a Velcro secure compartment for a laptop, tablet or book. With padded straps, a waterproof outer shell and contrasting trims, you can't ask for much more in a rucksack! With seven designs and patterns to choose from, you can choose whichever goes with your wardrobe best or that suits your family the most!
10L pack and go
For shorter journeys or town excursions, the 10L pack and go rucksack might be a better option for you. This lightweight design is perfect for days out with the family for storing the odd bits and bobs. It's a great choice for popping extra layers inside and is more durable than you might think. We've been known to store one of these in our day backpack above, in case of grabbing extra shopping or needing to store extra items in. Even when you're not out and about, this backpack makes a great gym or PE bag!
25L pack and go
For something just as lightweight but with additional volume, the 25L pack and go rucksack is the next best thing to the 10L style. This design has a drawstring closure with additional clips for extra fastening. Once again, it makes a great secondary option for everyday life as well as when outdoors. How often do you go on a walk, nip into the local town and have to cram things into your regular backpack? Instead, store one of these in your rucksack and you've got another option!
Tweed backpack
If you're not going on a countryside walk and are instead exploring local towns, a tweed backpack should do the trick for any countryside lady. With its tweed body and leather fastenings and straps, this is sure to be practical and stylish for any woman. It's the perfect size for any items you need on a daily basis without feeling too bulky on your back. There's something so chic about a tweed backpack so expect compliments from tourists and locals alike on your fabulous backpack!
With the four choices above, you should be able to find a design that fits what you're looking for. We like our products to be practical but still look stylish so you never have to compromise on one of them! Now fill up your rucksack and head outside!