Even if spring isn't too far away, a pair of knee high boots will never go out of style. In fact, they're a great option for that winter-autumn transitional style and weather. There's something so chic about knee high boots, no matter what style they are or what the occasion is!
However, we know that some women can struggle to find a pair to suit and fit them. Those with narrow feet and calves have a hard time getting a fitted pair of knee high boots whilst those with wider feet and athletic calves often find them too restrictive. Whilst we know they're not for everyone, it doesn't hurt to try some on!
We've compiled a guide to finding the best knee high boots for you. Some of the more streamlined versions are perfect for those with narrow feet whereas those with slightly wider feet often prefer other styles. Before we look into what to wear with knee high winter boots, let's first take a look at the types of knee high boots we have to offer.
Types of knee high boots
Whilst there aren't tonnes of different styles, there are still a few different options to choose from when it comes to knee high boots. Whether you're looking for a pair to wear on the farm or or for running errands in town, each style has slightly different features. Some are more suited to country life than others so read on to discover our top four knee high boot styles and where to wear them!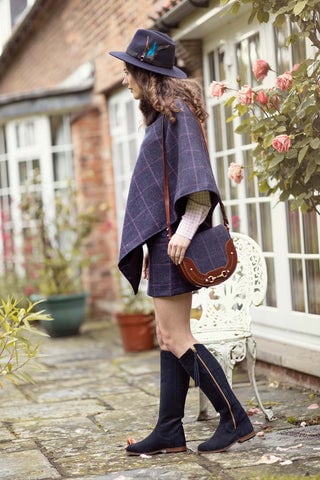 Work boots - Knee high boots don't have to just be pretty, they can be super practical too. Our Tullymore boots are the perfect pair for countryside living. With a thick sole and sturdy tread, they will see you through outdoor work and country walks. The drawstring design means you can wear them as loose or as snug as you want to around the top of your calf. They're one of our most versatile boots so there's no surprise that they're so popular!
Biker boots - For the ultimate cool girl look, a pair of biker boots will never go amiss. However, in true Rydale fashion, we had to give it a country spin. Our Middleham boots are the perfect mix of country chic and rock chic. The tweed quilted panelling gives them an unexpected edge and we're sure you'll get lots of compliments about your boots. This style also features a thicker sole and tread for outdoor activities.
Riding boots - Our sleekest knee high boots are our riding boots. If you're looking for something a bit more streamlined as well as easy to dress both up and down, this might be the style for you. Even better, this style looks great in both suede and leather so you can choose the option that will fit your lifestyle the best! The exposed gold zip gives them that extra classy touch too.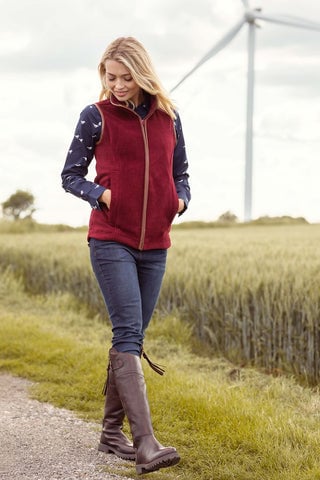 Country boots - If you're looking for an all-round boot, the country boot is the best knee high boot for you. Our leather version is more practical, with a thicker sole and grippy tread, perfect for getting out to explore the countryside. The suede version has a thinner sole, perfect for everyday life, such as running errands and shopping in the local town. Both versions incorporate features from our other boot styles into one versatile style!
What to wear with knee high winter boots
Knee high boots have always been a struggle for most ladies because they often don't know how to style them. Trying to cram wide legged bottom half items into them isn't fun so we often don't bother and change our footwear! We're here to give you some top tips of what to wear with your knee high boots, especially on your bottom half!
In the outdoor countryside - If you're in the great outdoors, whether that's working, walking or riding, you'll want something comfortable and flexible. We love to pair knee high boots with jodhpurs because they're just so stretchy! Even if you're not going horse riding, you won't believe how comfortable they are. Whether you'd prefer a pair that look more like leggings or jeans is entirely up to you though!
For something even more practical, our brand new walking trousers were made for knee high boots! With a standard style or a pocketed version, we're big fans of just how comfortable they are, despite their fitted style. Practical and comfy? That's a duo we can get on board with!
Whilst running errands - Here, you want to keep it casual but not too casual, just in case you run into a friend or family member. Our number one rule for casual outings? Wear dark wash denim! We practically live in our indigo biker skinny jeans when out and about. Even better, they go with any style of boot, from a biker version to a riding style. We love to finish this look with a checked or flannel shirt, a casual but chic look for every day.
At a casual family gathering - If you want to dress up but not too much, we're big fans of coloured denim. Depending on the season, khaki and light pink work perfectly with neutral coloured knee high boots. Khaki is great for autumn winter and paired with dark brown and black boot styles.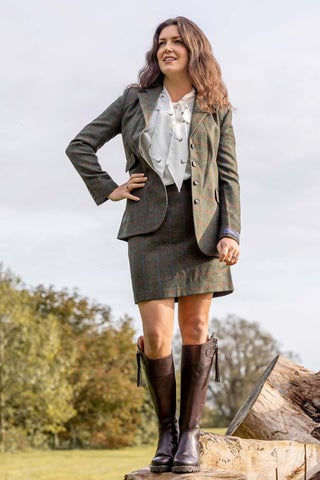 Light pink pops against tan coloured boots during the warmer months. With coloured denim, it's important to let that be the feature of the outfit so pair with more neutral tones, such as a cable knit jumper, to keep warm.
For dressier occasions - Here is where your streamlined leather and suede knee high boots show their versatility. Pair them with a tweed skirt and you've got the perfect smart casual outfit on. You can always try and match the thread in the tweed to a jumper or shirt to tie the look together. You'll look smart but feel cosy in this kind of outfit.
Knee high winter boots are not as hard to wear as you can see from above. We know you'll probably own a few of the items mentioned in your wardrobe already so it's all about building those outfits. Try on different styles with your boots and you'll see just how versatile knee high boots can be. Whilst we wouldn't recommend wearing them in the height of summer, knee high boots are a great transitional piece to wear throughout most seasons. In fact, if you get yourself a pair during the autumn, you probably won't have them off your feet until late spring! Now that's a quality investment!