Now we've finally got a glimpse at summer, it's time to find those summer clothing items either from inside the loft or the back of your wardrobe. They'll probably need dusting off and a good clean but hopefully they'll still fit!
Summer fashion always seems to be a bit of a marmite situation – you either love it or hate it – but hopefully, with our help, you'll be able to mix and match your current summer wardrobe with a couple of new pieces.
If you're looking for a staple for your summer wardrobe, look no further than a pair of shorts. Whether you opt for a neutral beige shade, a classic navy colour or a pair of bright pink shorts, they can be one of the most versatile items you can own.
Maybe you're put off because you think the styles are always too short. Knee-length shorts come back into fashion every season and for women, give off an expensive, ladylike vibe.
If you're a fan of outdoor activities, shorts during the summer are a must. You don't need to buy specific walking shorts when a pair of cargo shorts will do. You'll find they're more versatile too as you can wear them out and about as well as on walking excursions.
As always, we're breaking it all down for you in bitesize chunks, rounding up our list of essential items and outfit ideas to wear with all your summer shorts. Don't forget to utilise what's already in your wardrobe and try to mix and match to get multiple outfits.
Ladies
Women's shorts are a great alternative to skirts and dresses on those occasions where it is more practical to wear trousers but far too warm! Hiking and other outdoor activities fit the bill but you will also find that shorts can be dressed up too. Whilst you wouldn't turn up to a wedding in a pair, they're a good fit for more casual outings.
Denim shorts should be a staple in any country lady's wardrobe, no matter what age you are. Styles range from shorter lengths to knee length for those who prefer to cover up more. Classic indigo denim means you can basically wear any style of top. Polo shirts, striped tops, patterned, short-sleeved shirts and classic T-shirts all suit dark denim.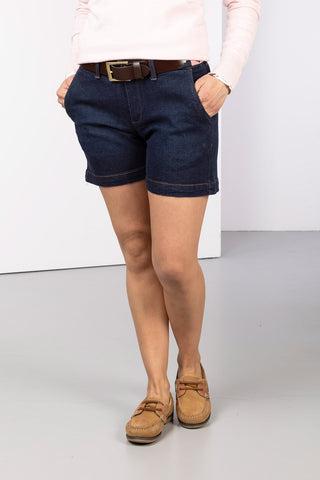 Smart shorts are an item that comes back around every summer for women; in fact, you'll probably have some already in your wardrobe from last year. If you're not someone who goes for shorts usually, start off with a neutral pair, such as navy or khaki. This gives you the best opportunity for wearing them more often as they're versatile colours.
With dark coloured shorts, going for lighter colours on top keeps the look fresh and summer appropriate. A classic white polo shirt complements cotton shorts on any woman and is a timeless look. A patterned shirt, whether checked or animal print, also goes well with dark coloured shorts. Keep the shirt's base colour like white, cream or beige to stop the overall outfit from looking too wintery.
Choosing the right pair of shoes can often be a woman's biggest decision of putting together an outfit. For casual outings, deck shoes, canvas trainers and sandals work well; just make sure you're comfortable in them! If you're going walking, a pair of sturdy walking trainers or boots are a must! If you're wearing shorts for a dressier occasion, loafers or cork wedges add a classy option. If you opt for bright coloured shorts, stick with a neutral pair of shoes whereas, with darker or more neutral shorts, you can go for more colourful options on your feet.
Men's
When it comes to men's shorts, you can either go down the casual or the smart-casual route. Think about where you're heading to and what you might already have in your wardrobe.
Dressing smart casual can be tricky during the summer. Of course, you should always check the dress code to see if trousers are a necessity but for many occasions, such as relaxed outdoor parties and barbeques, chino shorts and a smart shirt won't go amiss. Short sleeves are a must in warmer weather but make sure your shirt doesn't look too much like office wear. Pair with loafers or deck shoes to keep a classic, preppy look.
If casual is the look you're going for, a clean polo shirt will always look sleek. A neutral white or grey will go with any colour of shorts. This would be the perfect outfit for a day at the pub or at a relaxed family gathering but that doesn't mean that casual means lazy! Add a pair of clean white sneakers and a leather belt to complete the look.
You can also go for a basic crew neck T-shirt in any colour to complement your shorts. Beige shorts look best with pastels and white, navy shorts suit red and blue hues and khaki shorts complement other earthy tones, such as neutrals and shades of browns.
Shorts have always been notoriously tricky to get right in an outfit but hopefully, with our tips and tricks, you should be able to rock them in style. If you're unsure of where to start, choose a pair of shorts in a neutral colour, such as navy, stone or denim, and go simple on top with a classic polo shirt or coloured checked shirt. Remember that short sleeves are usually a must if the weather is heating up!
With shorts, you should always invest in a high quality, leather belt to fit. We suggest a tan or brown colour, which suits most colours. There's nothing worse than wearing your new shorts out and about and constantly pulling them up all day. A classic country belt will fix that; it'd be a surprise if you didn't own one already!
Whilst shorts are not an easy item for some people, we wanted to show you that anybody really can wear shorts; it's about choosing the style that suits you. Longer, knee-length styles are perfect for those of you who are conscious of your thighs; shorter styles in bright colours give off a more youthful, fun vibe.