Now that summer is well and truly behind us, it's time to dig out those boots from the back of the wardrobe, the cupboard under the stairs or the spare bedroom cupboard. You might find that they just need a quick clean but sometimes they need a bit more attention.
One thing we often forget about are the laces. Whilst you don't need to re-lace them after every wear, it's a good idea to remove the laces if they've been stuck in a cupboard for a while, possibly even investing in a new pair.
When it comes to different types of footwear, you can use different techniques of lacing up. There are hundreds of ways to lace up boots, many of which most of us know nothing about! In this blog post, we'll look at our two types of lace up boots, walking boots and brogue/leather boots, give you some ideas of styling tips as well as some of our top tips on how to lace them up.
Walking boots
Whilst we know you can get walking shoes, for this blog post, we'll be looking at the boot version instead. For those who live in the countryside, a pair of walking boots are an essentials, whether you hike or not. They're the perfect pair of shoes to put on for dog walks, walks around the village and being out and about in the area. We know that walking boots are notorious for being hard to wear in but once you do, your feet and ankles will thank you after a long day of walking!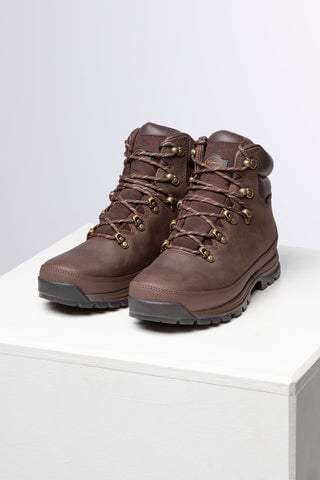 You want to use the tightest technique possible for walking boots because they need to be snug on your feet. There is nothing worse than having loose walking boots. They're meant to fit well to offer the support for your foot. Otherwise, there is no point in wearing them. Criss-crossing your laces is the perfect technique for walking boots. It allows you to get extra grip on your laces to pull them tightly to your foot. Of course, they don't want to be too tight or you'll lose circulation in your feet!
Before you purchase a pair of walking boots, make sure you try them on with a mixture of socks. During the summer, you'll probably wear a thinner, cotton sock but when the weather gets cold, you'll need to pop on a thicker pair. You can always add a pair of insoles during the summer if they're a little too big. For the most part though, you'll be wearing them with thick socks.
For the ladies, you can opt for a traditional style (ours come in dark brown and navy), which are perfect for hiking around the countryside, whether you're at home or away somewhere. If you prefer something a bit more trendy, a khaki pair of hiking boots might be right up your street. They're still super practical but in a khaki shade, they're perfect for all kinds of weather.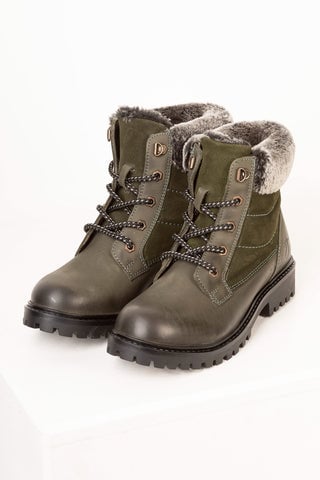 For the gentlemen, we're going down the classic route. A classic pair of brown leather walking boots will see you from season to season and will never go out of style. Wear them with hiking gear or a pair of dark wash jeans for outdoor events. Why ruin shoes and get them muddy when you can wear smart-looking walking boots instead?
Brogue and leather boots
Compared to walking boots, brogue boots tend to sit slightly lower on the ankle, making them ideal for autumn and winter days when it's cold but not too bad weather-wise. They're also super smart so you can save them for days out with the family and nights out with friends. You might even wear them to the office!
When it comes to your laces, you need to keep them clean. There's nothing worse than smart shoes that look shabby with dirty laces. That also goes for the boots themselves. A quick wipe down after every wear will be enough but using a proper leather cleaner every month or so will keep them looking fresher for longer as well as increase the longevity of the boots. Why invest in a pair of leather boots and not look after them?
Using the diagonal technique works well with brogue boots as you don't need to have them as secure to your feet as a pair of walking boots. However, if you have narrower feet, this technique can make it harder for you to tighten them to your feet.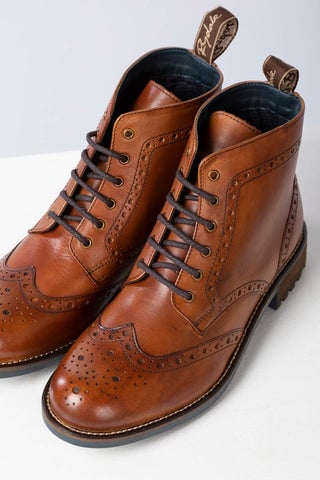 For country ladies, a classic pair of tan or dark brown brogue boots will complement any wardrobe. Pair with dark wash jeans to keep the look smart-casual or wear with a tweed skirt for the office or smarter occasions. Both shades of brown look smart enough for most occasions.
For country gentlemen, a tan pair of brogue boots are perfect if you'll be dressing them up and down. If you'll only wear them for smarter occasions, a brown pair will be more suitable. Wear with suits (tweed or not), chinos, jeans or even breeks and still look smart.
Top tips for wearing lace-up boots
Whilst we want you to look the part, when it comes to lace-up boots, you need to take a few practical steps into account first. Here are some of our top tips for wearing lace-up boots.
Different techniques work for different shoes/boots as well as feet. If you have narrow feet, try criss-crossing your laces as this can help you to get a tighter fit. For wider feet, you can get away with a looser technique, such as every other eyelet or hook. Try a few variations to find the one that makes the most sense for your feet!


Always wear your boots inside first. Walk around your house in them a few times to break them in, wear thick socks to stretch them a bit and get as comfortable as you can in them before wearing them outside. You might find they're not the boots for you and it's much easier to return them if you've not worn them out of the house.


Invest in insoles and heel grips to make your boots fit better. Many people find that the back of their heels rubs against the boot, especially with lace-up styles. Heel grips or inserts should minimise this rubbing. Insoles are also a great investment, whether you go for a full or half sole.


Clean them regularly. A quick wipe with a wet cloth on leather boots is enough if you're going to clean them regularly. Give them a thorough clean before you wear them for the first time every autumn and every time you get them particularly dirty. Invest in a leather cleaner to make it easier.


If you travel a lot, invest in a boot bag. This will keep your boots fresh, clean and protected from your other stuff. You can always stuff socks inside them to save on packing space and maintain the boot's shape or buy an adjustable boot shaper instead.
Lace-up boots can be both smart and casual, depending on the style you choose. If you do a lot of walking and hiking, proper walking boots will suit your lifestyle more.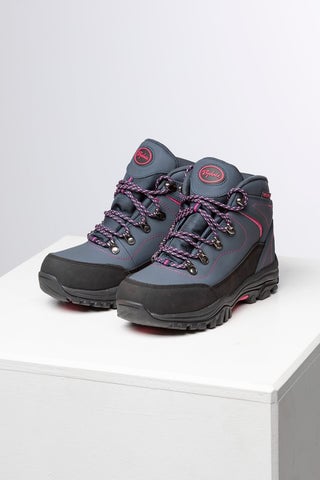 If you do go out in the country but aren't an avid hiker, a pair of brogue or leather boots can take you from day to night with a couple of outfit changes. Either way, lace-up boots are the go-to boot when it comes to the autumn and winter months so make sure you find yours somewhere or purchase a new pair!