When it comes to rainy weather, many of us think that means we don't get to wear our nicest items out because they'll get spoiled. Whilst that might be true for suede footwear, stick on a waterproof jacket and any outfit is saved underneath.
There is one main piece when it comes to a rainy day outfit: outerwear. Get your coat or jacket right and the rest of your outfit can be whatever you want it to be. As we know in the UK, rainy weather can appear from nowhere, especially when it hasn't been forecast. That's why you should prepare for all eventualities!
We've gathered our favourite styles of coats and jackets which are all perfect for rainy days. Whilst you don't have to carry them around, we recommend storing them in the boot of your car for just in case emergencies!
Outerwear - ladies
Waterproof jackets have always been seen as old-fashioned and uncool. We're here to debunk that myth and show you a variety of styles, with everything from casual everyday jackets to dressier jackets, perfect for any autumn event.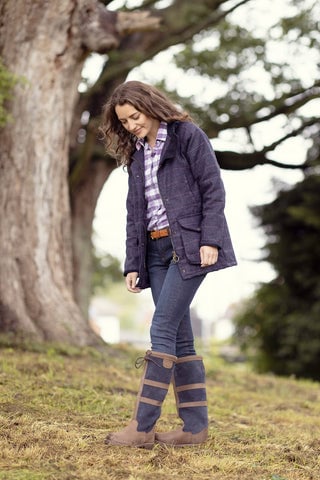 A wax jacket - If you're looking for a jacket on the dressier end of the jacket scale, a wax jacket is the one for you. Whilst we wouldn't recommend wearing it when it's torrential rain, a bit of drizzle will be just fine. Most styles don't come with a hood so be sure to have that umbrella in your handbag before you leave the house. We love a wax jacket for smart casual occasions as it always gives an upper class feel, especially with a quilted style.
A bomber jacket - For a more casual option, a bomber jacket is a perfect everyday style. Whilst it's designed to be for horse riding, we just love the colour choices so much that we wear ours out all the time! If you're after something even more warming, a fleece lined version is amazing for this time of year. These styles are in neutral colours to make them even more wearable and it feels like wearing a blanket on top of your outfit!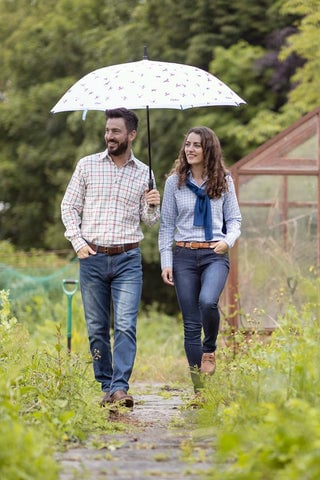 A riding coat - For a pop of colour, a riding coat might be the waterproof jacket of your choice. With shorter, three-quarter and full length styles to choose from, there's always a version for your size and shape. We love to wear the shorter style when it's cool but not cold and then wear the longer versions when the weather gets worse and the temperature drops. With an adjustable waist and plenty of pockets, it's an amazing coat for a range of occasions.
A jacket in a packet - For something more lightweight, you can't go wrong with a jacket in a packet. Especially great for travelling, you can fold them up in their bag when you're not wearing it. They're also a good layering piece if you prefer not to wear a thick coat. You can wear tops, jumpers, fleeces and sweatshirts underneath and use this as your waterproof outer layer.
A parka - For an everyday style, the tried and trusted parka is a style that never disappears. The faux fur hood gives it a higher end feel as well as the quilted lining. It's one of our warmest styles so it will see you right through autumn, winter and spring whenever the weather takes a turn for the worst. Available in classic navy and khaki styles, it's a cool everyday coat to have in  your cupboard.
Outerwear - gentlemen
Men often choose practicality over style when it comes to waterproof coats and jackets. However, that doesn't mean you have to compromise on style at all. You can stay warm and look cool at the same time!
A riding coat - For a practical coat for heavy rain, a full length riding coat is the one. It's the perfect coat for any outdoor activities, from horse riding to walking the dog in the countryside. Coming in two neutral colours, navy and khaki, you can be guaranteed that it will go with any casual outfit. Just don't forget your waterproof shoes to go with it!
A bomber jacket - For a super cool, casual style, a bomber jacket could be right up your street. This is the most all-round jacket of our styles as it's warm and waterproof but still looks cool! The hood can be packed away when the rain has stopped and you know our jackets offer multiple pockets for versatility. If you're prone to getting extra cold, a fleece lined version might be better for you. Just think about how cosy it will be!
A wax jacket - For a jacket for smart casual occasions, you can't look much further than a wax jacket. We know most of you will probably own one already but make sure it's fully waterproofed. A wax jacket is the perfect option for after work drinks, nights out with friends and family gatherings over Christmas. Whether you go for a plain style or a quilted version is up to you; both options can be dressed up just as easily as the other.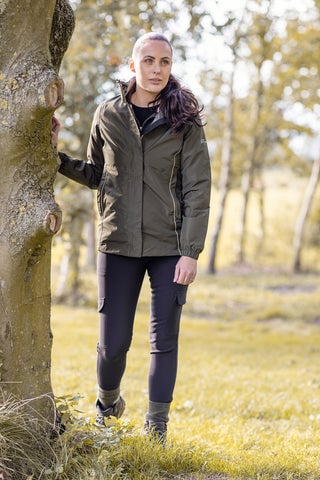 A hiking jacket - Another practical style is a hiking jacket. Whether you're into walking or not, a hiking jacket is designed to be as warm and versatile as possible. You know this style will always be windproof and waterproof as well as having tonnes of pockets because it's designed to be worn in the great outdoors! Again, a neutral colour is best here for maximum wearability with any outfit.
A jacket in a packet - For warmer days or if you're not a fan of thicker coats, a jacket in a packet might be best for you. Here, you can go crazy for colour too. Wear as many layers as you need to underneath. We love to wear a thick fleece underneath so it feels even more toasty inside. This style is perfect for unexpected showers, especially if you keep one in your bag or car at all times.
As you can see, there are tonnes of different styles of waterproof jackets and coats, all perfect to style with any rainy day outfit. Whether you're off for a family day out or a dressier occasion, a waterproof jacket means your outfit won't get spoiled at all! With so many styles to choose from, your outerwear wardrobe will never look so good!